Weddings
At Hartley Farms, our location has been designed with your event in mind.  Your ceremony takes place under a 200-year old Live Oak, with amphitheater style seating that can accommodate up to 200 guests.  After the ceremony, take the shady, meandering path to the reception area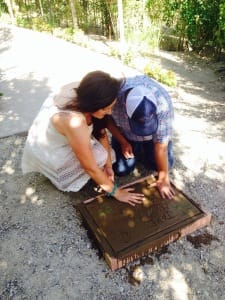 where 8,000 square feet of lawn, a permanent dance floor, and band stand await you and your guests.  Have a cocktail in the shade of the Sycamores and dance all night under the stars!
Your event is very special!  We only do 12 events per year to give you the extra attention you deserve for such a special day.  Yours is the only event we host on the weekend! We even commemorate it in a special way: each couple gets to personalize a stepping stone that goes into the walkways at the gardens, for generations to come!
Additional services can also be provided if you need additional help.
What does this include? Glad you asked…
ON SITE ACCOMMODATIONS
Because you are the only event at the farm on the weekend you choose, we are including 2-nights stay in The Cottage.  On the day of your event, this Cottage serves as a dressing room, but you can check in the day before your event, and check out the day after!  This Cottage sleeps 6, and offers one bedroom with a king-size bed, a king-size pullout sleeper sofa, and two twin beds, along with a 3/4 bath (shower, toilet, sink), fully-equipped kitchen, and covered patio overlooking the heart-shaped pond.  Additional on-site accommodations are available.
THE REHEARSAL
Rehearsals may be scheduled Monday through Friday. Scheduling of your Rehearsal is done when the 60-day deposit is taken.
THE CEREMONY
Your ceremony is set up in amphitheater style seating, and seats up to 200 guests.  Fruitwood Folding Chairs can bee added for $3.50 per chair (delivery & set-up included).
Got a lot of DIY? That's great! You are the only wedding on your weekend, so come out early and decorate, come out the next day to clean up. No extra fee.
We only book 12 events per year, so we have more availability, but dates go FAST, so get in quick to take a look! For more pictures, get on Instagram and look up #HartleyFarms, OR CLICK HERE.